Volunteer

As a member funded volunteer-led amateur roller derby league

Sheffield Steel Rollergirls

and Sheffield Steel Junior Rollers both welcome and actively encourage contribution from our existing and or new volunteers.

Volunteering is a great way to bridge the time spent between jobs, make new friends or fit around education or existing work. Whether you're creatively minded, great with numbers or just like rolling up your sleeves and pitching in, there's definitely something to interest you or any willing volunteer at Sheffield Steel Junior Rollers.

From blogging to vlogging, poster design to getting into the community and spreading the word, volunteering is a great way to not only vastly increase your social circle, but also increase your skills base, build your confidence and develop your cognitive or problem solving skills.

The roller derby is an amazingly inclusive, supportive and inspiring community. Young people and adults come to roller derby for a variety of reasons, however the reason to stay is always the same. Indeed we welcome requests to be involved with our league regardless of your experience, gender, age, race, sexuality, religion, physical ability or even interest in skating and /or roller derby.

Please visit

current opportunities

to find out about all the volunteering opportunities that we have available

Safety notice Roller derby and involvement in roller derby is seriously addictive!
---
Powered by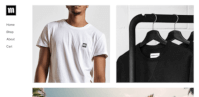 Create your own unique website with customizable templates.